Irving and Wonona Change's family photographs
---
Date: May, 1995;
Location: ?
Note: Seated: Irving and wonona Chang, seated on the arms, Mei-An Raicer and Darby Chang.
Last row: Geoffrey Raicer, Alan Raicer, Mei-Ming Raicer, Michael Kaufman, Nona kaufman, Amos chang, Joan Chang and Matthew Chang.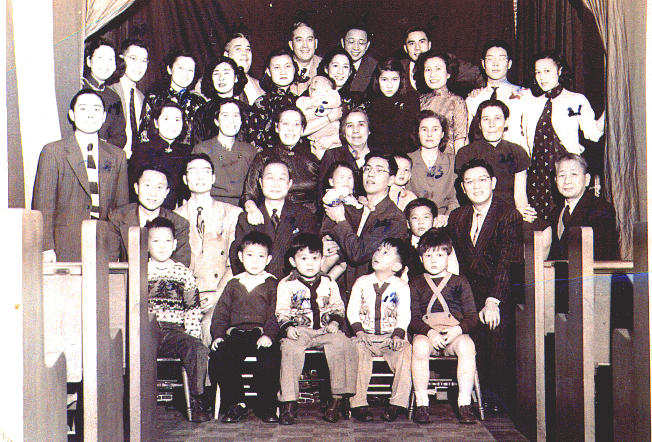 Date: Dec. 30th, 1950
Location: Huie's church , New York City.
Note: This photograph was taken at Huie's church at 225 31st Street, New York City, on Dec. 30th, 1995 by Sam Tu, Mary Kwei's husband. This was the first family reunion since WWII.
Persons in the photograph are listed as follows:
First row (seated left to right): Robert Yang, Huie Yang, Amos Chang, Chris Yang, Jonathan Huie.
Second row (seated), Jim Ma, Carl Chou, Jimmy Yan, Robert Tsu with baby?, Bert Wong, Hsi Ming Yen, Fu Liang Chang.
Third row (standing), Irving Chang, Mary Kwei, Carrie Tsu, Alice Yen, Louise Change, Michael Yang, Isabel Huie, Dorothy Wong.
Fourth row(standing), Grace Yen, David Tsu, Wonona Chang, Kay Chang, Kin Tsu, Alice Yen.
Fifth row(standing), Arthur Huie, Albert Huie, Cheng Tung Yen, Huie Chang.